---
In 2016 a liberal hate group called Sleeping Giants popped up with the sole goal to harass advertisers that showed ads on conservative websites until they stopped advertising on those sites, quite literally sending mobs of online liberals to flood advertisers in a smear campaign, falsely accusing the conservative sites of "hate" and "bigotry."
(Article by Susan Duclos republished from AllNewsPipeline.com)
Via Daily Caller, who recently exposed the man behind  Sleeping Giants, we see just a little of what they have done:
The group's original stated goal was to cripple Breitbart, the pro-Trump website whose former chairman, Steve Bannon, worked in the White House as President Donald Trump's chief strategist.

To accomplish that goal, Sleeping Giants has waged an intense campaign to pressure Breitbart's advertisers into pulling their ads from the website. It's worked pretty much as designed.

Breitbart lost 90 percent of its advertisers over the span of two months in 2017. Sleeping Giants has both maintained its pressure on Breitbart's remaining advertisers and expanded its focus.

Sleeping Giants began pressuring investors in October 2017 in Renaissance Technologies — a successful hedge fund — to pull their investments because the company's CEO, conservative billionaire Robert Mercer, had a financial stake in Breitbart. Less than two weeks later, Mercer sold his stake in Breitbart and stepped down from the hedge fund.

Sleeping Giants also boosted Parkland student David Hogg and Media Matters' boycott of Fox News host Laura Ingraham in March over a tweet she sent about Hogg. Rivitz' group posted the name, position and email address of a Hulu vice president and encouraged its tens of thousands of followers to email her and demand that the streaming website boycott Ingraham's show.

But even as Sleeping Giants became a major political player — described by The Washington Post as "the mysterious group that's picking Breitbart apart, one tweet at a time" — the person who launched the group managed to remain anonymous.
Breitbart, the first victim of the smear-merchants of Sleeping Giants, also weighs in after the Daily Caller exposed the founder as "Matt Rivitz, an award-winning ad copywriter based in San Francisco. Yes, the man is an ad copywriter who also organizes online mobs to harass advertisers like the ones he copy-writes for.
No wonder he didn't want his personal affiliation with Sleeping Giants revealed.
The group's modus operandi is consistent throughout its campaigns: use social media in cooperation with other well-funded left-wing groups like Media Matters for America and Think Progress to urge their followers to contact advertisers en masse – expressing their outrage that companies dare advertise with conservatives – until the companies relent and pull their ads. Equally consistent is their goal in organizing these social media mobs: pressure corporate America to blacklist conservative audiences.

Sleeping Giants' first crusade was to drive Breitbart News from the web, starting in 2016. Despite being unable to do so, the group has branched out into threatening the advertisers of other leading voices on the right like Fox News's Sean Hannity and Bill O'Reilly. Sleeping Giants also sought to bring pressure on CEOs to drop out of President Donald Trump's consultative councils. More recently, the group joined with teenage anti-gun rights campaigner David Hogg to try to push conservative icon Laura Ingraham off the FM airwaves and cable news.

Rivitz, throughout the time he has been organizing boycotts against advertisers, worked in the ad industry. According to his AdForum and AdAge profiles, Rivitz has done copywriting work with Goodby Silverstein & Partners, a major San Francisco ad firm, and Wieden + Kennedy, a Portland-based advertising powerhouse, although he does not appear to be employed at either agency at the moment.
An example of how they organize their online mobs comes from their pinned tweet from December 2016, targeting Breitbart: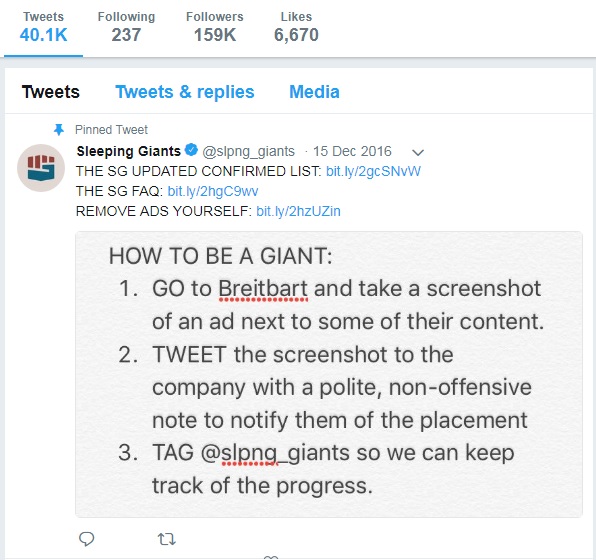 Here is an example of their online mobs (159K followers) targeted harassment campaign against Breitbart which has been ongoing since 2016, while Rivitz hid behind the mask of anonymity.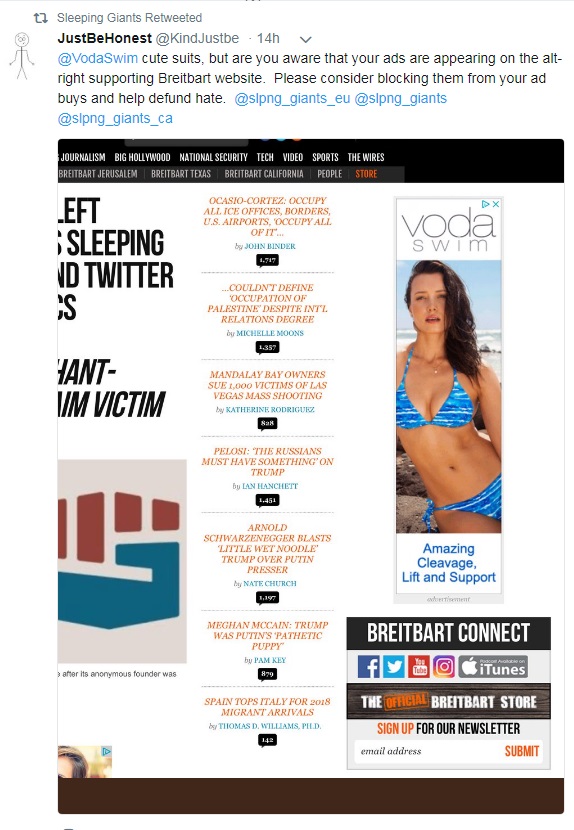 Note– There is nothing wrong with remaining anonymous online, some do it for safety purposes, some just because they like using certain user handles, but when someone creates a group which deliberately organizes online mobs in order to destroy the ability of others to earn a living, simply because they disagree with their politics, especially a group that has been reported on by major news outlets (Wapo), then the expectation of privacy via anonymity, is no longer valid.
Right now the smear merchants aka Sleeping Giants are campaigning against any businesses working with ICE, as seen on their Facebook page, where they are have targeted McKinsey & Company for harassment, and Microsoft's VP Jason Zander, while posting his email address.
Just a look at their main Facebook page shows multiple companies being targeted by this group right now.
Read more at: AllNewsPipeline.com