---
A local news station recently covered a murder investigation that featured arguably the worst eyewitness sketch in history. Ironically, the sketch, which looks like it was drawn by a five-year-old, actually aided investigators in arresting the purported murderer.
Rabbi Joseph Raksin was murdered during a robbery attempt on August 9, 2014. "He was shot and killed while he was on his way to synagogue in the area of 175th Street and NE 8th Court," said Miami-Dade State Attorney Katherine Fernandez Rundle. "As a deeply religious orthodox Jew, he was carrying nothing of value as it was the Sabbath."(1)
Fernandez Rundle claimed two males were seen running away from the scene of the crime. Investigators suspected for months that more individuals may have been involved in the murder. The 60-year-old rabbi from Brooklyn was in South Florida visiting his daughter. His death set off a chain of prayers from Miami to New York.(1)
The fall of DeAndre Charles
In early December, more than a year and a half after the murder, the Miami-Date Police Deparment Homicide Bureau announced the arrest of 15-year-old DeAndre Charles. The arrest took place in the area of 183rd Street and NW 6th Avenue. Charles had been a former student at Miami Norland Senior High.
"Today I am here to announce that yesterday this fine team of lawyers went to the Grand Jury and indicted 15-year-old DeAndre Charles as the gunman in this cold blooded murder," Fernandez Rundle said at a news conference Wednesday afternoon. "He's charged with one count of first degree murder and one count of attempted robbery with a firearm."(1)
Authorities narrowed in on the perpetrator using an outlandish sketch made by a neighbor of Charles. Although the witness' drawing is light years away from the work of Leonardo da Vinci, if you squint your eyes enough in the right light, the sketch can be crudely interpreted as a human face.
The sketch teeters on the brink of offensiveness, though not as offensive as killing a man. Nevertheless, the artist did capture some of the features of the purported killer. At the very least, the drawing enabled police to narrow in on what the perpetrator might vaguely look like.
The best/worst sketch ever made
Interestingly, after making the arrest, authorities did not cite any evidence they used to determine Charles was likely the murderer, other than the sketch. According to law enforcement authorities, Charles did not make any incriminating statements when he was taken into custody and almost immediately asked for his lawyer. Charles's family believes he is innocent.
"My son was here. That day I was working. All my kids were here. It was a Saturday. So he has an alibi? Yes, and the detectives interrogated him twice and tried to pin it on him," Blair Charles, the suspect's mom, told sources.(2)
DeAndre Charles' stepfather, Willis Archibald, appeared just as confident as the suspect's mother.
"He had nothing to do with this case," Archibald told a CBS 4 reporter. "He was home at the time. His whole family knows that. This is ridiculous. I hear they say this was the miracle of Hanukkah. This was not."(2)
"They are pinning this on a young teenager that has a lot of issues but this is ridiculous. I am 100% sure that he is innocent."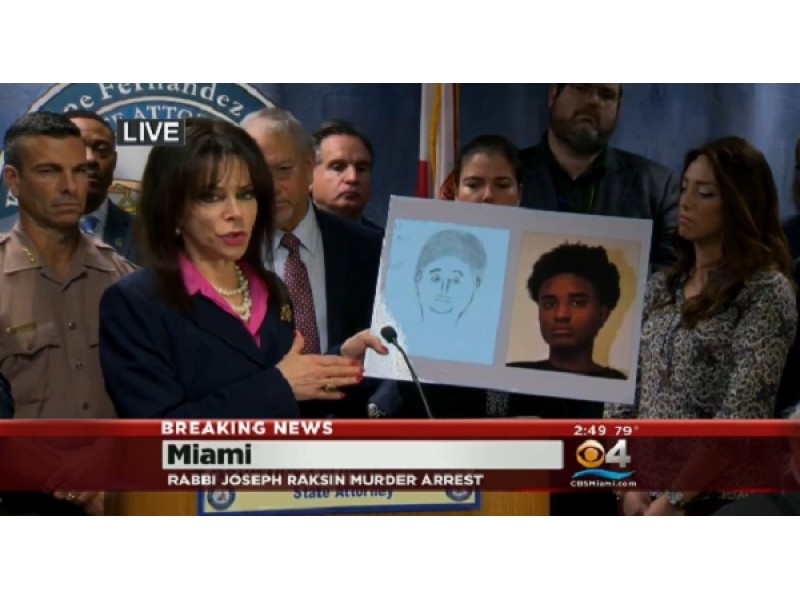 On the other side of the courtroom, the prosecutors claim to have an airtight case against Charles.  "There is a lot of evidence-rich, though factually poor, but evidence-rich in terms of circumstantial evidence to piece the case together."(2)
Charles is being charged with first-degree murder and one count of attempted robbery with a firearm. Hopefully, during the trial, the prosecutors will provide more substantial evidence against Charles than a comedic sketch.
Sources include: